Saturday Morning Session
~ Yangchun Reunion 2000 ~
---
All the families gathered Saturday morning for the formal introduction of our Yangchun guests. We also watched a video of Yangchun and the orphanage, and had a fun time making a red thread web while introducing our families.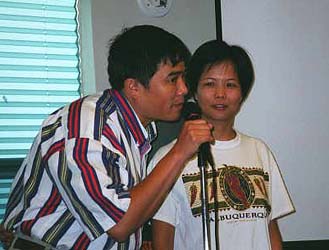 Morgan Zhao, AAC's facilitator, introduces Chen Ju Ying (Yangchun City Civil Affairs) and Yu Hong Ying (Yangchun Social Welfare Institute Director).
Morgan and Mrs. Yu.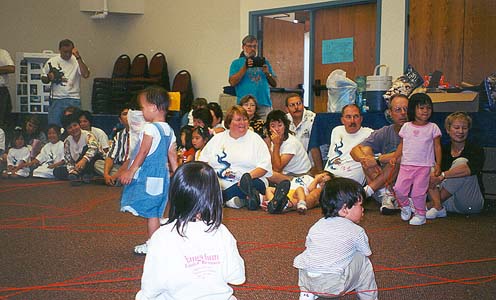 We had a HUGE ball of red yarn that was rolled from one side of the room to the other.
When the ball came to you, you introduced your family.
The kids enjoyed playing in the web as it was built.
---
Go to the next page with photos from the Saturday picnic lunch.

Back to the Reunion main page.